Welcome to Arizona People's Assembly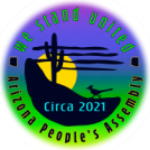 The Mission of the Arizona People's Assembly is to support the residents of Arizona to live in abundance through the efforts of the Global Restoration Plan.
WHO WE ARE
The Arizona People's Assembly consists of local residents who are dedicated to restoring the well-being of our State and World. We unite together to leverage our unique skills, knowledge, passions and dreams to make a positive impact on the place we live.
WHAT WE DO
We Encourage and support Sovereignty.
We guide The People of Arizona into the future according to Natural Law.
We facilitate community discussions and support actions for Eco-system restoration.